[vooplayer type="video" id="ODc5NDY=" height="470″ width="813″ ]
Q: Can I use GrutBrushes on an iPad Pro?
A: Yes!
I get this question almost every day now and while I don't have any proper documentation for it yet, you can import GrutBrushes TPL files into both Artstudio Pro (I love this app!) and Adobe Sketch apps
You can import any of the GrutBrushes TPLs right now, but you probably don't want to import them one at a time. So, in this super-quick video tutorial I show you how to export a batch of TPL brushes into one file all at once. That way you can just upload that single TPL containing all your favourite GrutBrushes to DropBox, iCloud or whatever you use to get files onto your iPad.
Once you have it in the cloud you can import it into Adobe Sketch or Artstudio Pro (shown below) Someday I hope to make a video tutorial showing the whole process, but until then, both apps do currently have information in their documentation on how to import Photoshop brushes so have a look around.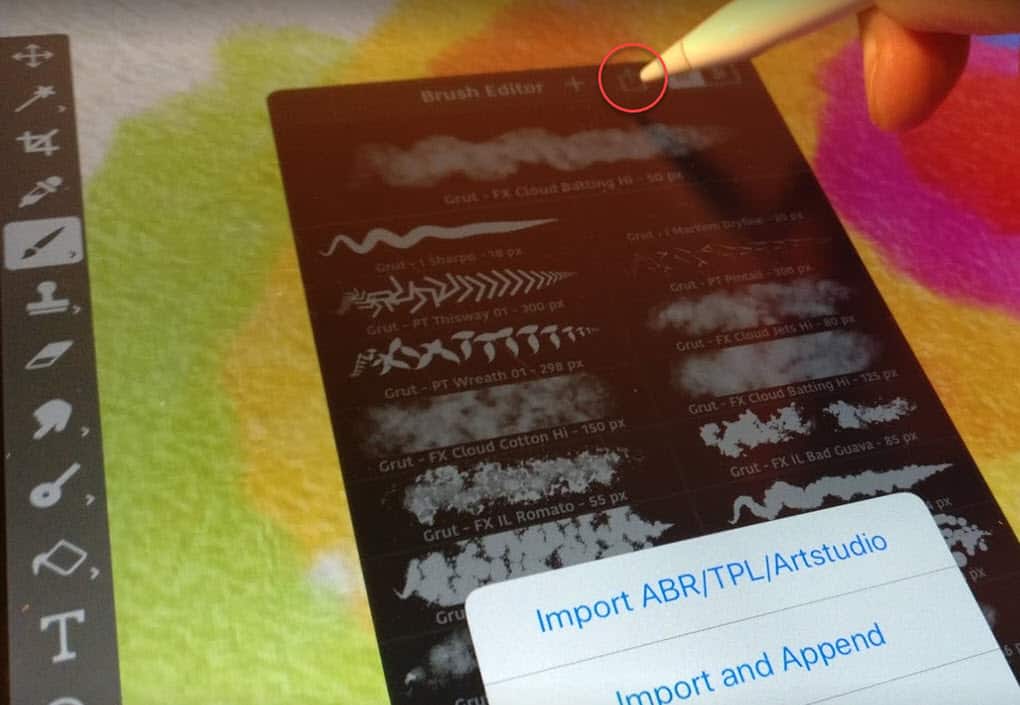 Here I am using the GrutBrushes pattern brushes on the iPad pro! Using GrutBrushes with the Apple Pencil is a dream.

…and no, sorry, you can't use these GrutBrushes in Procreate! It has it's own wonderful brush format but it can't import Photoshop brushes. UPDATE: Procreate GrutBrushes are now available! They are not the same as the Photoshop brushes but I think you'll like them just as much
There are dozens of  apps that claim to be able to import Photoshop brushes but what most of them mean is that they can import the tip shape, but that's just the most visible but probably the least important feature of a good digital brush.
GrutBrushes are all about the dynamics…HOW the brush behaves, not what it's brush tip shape looks like.
Unless an app imports all the brush dynamics it's really not importing the brush.
Adobe Sketch and Artstudio Pro are currently the only apps that can import GrutBrushes Photoshop brushes. If any new apps come along that claim to be able to import Photoshop brushes and all the brush dynamics please let me know, I'll be the first to buy it and test it out.