I can't find my password
If you don't know your password you can reset it using your email address here. Never signed up? Sign up for free
If you registered via a social network like Facebook Google+ or Amazon you may never have had a password or may have received a welcome email with a blank password in it. this is because you don't need one as long as you continue to login via that social network. If you would like to, you can get a password here.
I can't reset my password!
You may still be logged in with a social account or a cookie. You will not be able to reset your password unless you are logged out and the link will send you in a loop. You need to log out here first.

Going in a circle? Is it asking you for your password to change it? You may still be logged in.
Log out here
first then you will only be asked for your email address.
Then when you visit the reset password link you will see this:

If you still can't reset your password, and dont get the reset email, and it's not in your spam folder, send me an email at info@grutbrushes.com and ask me to reset it for you manually.
Hotmail users note: Hotmail routinely blocks all emails from GrutBrushes.com so if you have a hotmail address and aren't getting any emails, and they aren't in your junk/spam email folder then this is probably what heppened, in that case, send me an email and I will reply with my personal email.
How Do I Download My Brushes?
On your Account page you will see a download link for your files (login with email social login, or user name and your password – if you don't know it you can get a new password here)
When you checkout you will also receive these download instructions in an email. Make sure that info@grutbrushes.com is not being blocked in your spam folder


Detailed Photoshop brush installation tutorials are here.
How do I install all my Art Brushes Complete brushes into Photoshop CC in one go?
This will install the ABR files into the Brushes panel (in Photoshop CC Only)
Click the globe on the video for languages: Espanol, Francais, Italiano, Russian, Deutsch and more

How do I Install TPL files? (Photoshop CS or CC)
This is for anyone who has single brushes (available as TPLs only)
or if you are using Photoshop CS then this is the only way to install GrutBrushes:
Installing brushes without the plugin: If you are not using the GrutBrushes plugin panel, The easiest way is to drag and drop the TPL files into the Tool Presets panel or onto the top menu bar. ( Make sure you unzip/extract them to your hard drive first! ) You will see them show up in the Photoshop Tool Presets Panel. tip: If you don't see them there, uncheck the 'current tool only' box (see here) at the bottom of the Tool Presets panel.

install TPL files by dragging and dropping into Photoshop or the Tool Preset Panel (Not into a document!)
Make sure you unzip/extract them to a folder onto your hard drive first. Don't just drag them out of an opened zip file
Only install the TPL files. Don't drag the PNG or PDF files into Photoshop.
You can also try dragging the TPL files onto the Photoshop app icon on your desktop.
You can also try double clicking on a tpl file and if Photoshop is properly configured it should install into your Tool Presets panel.
You can also right-click on them and select "open with Photoshop"
To install them using the GrutBrushes Photoshop Plugin panel click the ADD button at the bottom of the panel and browse to the unzipped folder containing the GrutBrushes TPLs
The brushes are Photoshop Toolsets (TPL files) When you download them, you will receive a PDF with instructions included in the zip file you can also see them online here
Drag and Drop not working?
Make sure you extract/unzip the files to a folder on your hard drive. Installing from an opened zip folder will not work.
Once unzipped, you can try double clicking on the TPL file in Finder (mac) or Explorer (windows)
Try dragging the TPL files onto the Photoshop app icon.
One of my customers told me a tip that worked for him in Photoshop CS. In file explorer, they selected all the TPL files and then either double clicked on them or hit enter on the keyboard and it loaded them all into Photoshop, that might work for you.
You can also right-click on them and select "open with Photoshop"
3. Installing Downloaded Brushes into the GrutBrushes Photoshop CC plugin
Click the 'ADD' brush button to install brushes from your hard drive. You can install GrutBrushes ZIP files or TPL files. The GrutBrushes plugin cannot load ABR files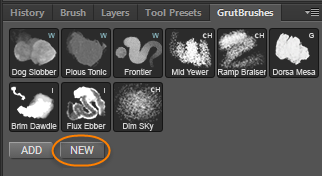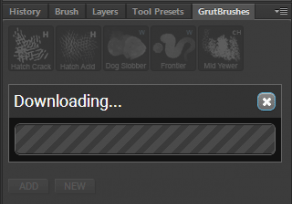 Tips for installing brushes with the plugin:
The Photoshop brushes are always listed in order of publication, with the newest one shown first.
If you can't remember if you installed the newest Photoshop brush, Click install and the plugin will let you know if you have it already.
The web panel is slow to load, you may think nothing is happening but it should load within about 15 seconds (im trying to change this)
The red play button will pop up a video preview of the brush in action.
4. Installing new Photoshop Brushes from the Website directly into Photoshop using the Photoshop CC plugin:
I Installed the TPL files but I don't See Any Brushes in the brush panel. Where are they?
You won't find them in the brush panel, they are Tool Presets (Window > Tool Presets) If you don't see them in the Tool Presets panel, try unchecking the "Current Tool Only" checkbox as shown in this video:
What do the letters in the brush names mean? (Brush Type Key)
Each brush has a one or two letter key code in it's name. These help identify the brush type and are as follows:
G (Gouache)
CH (Charcoal brushes)
E (Eraser)
FI (Fill)
FX (Effect brushes)
H (Cross Hatch)
I (Ink brushes)
P (Pencil)

MI (mixer/blender)
NM (Natural Media – This one covers a lot of brushes that don't fit into other categories)
O (Oil)
OI (Oil Impasto)
S (Specialty)
W (Watercolour)

Why TPL files? Why not ABR?
Most sets are now available as ABR files but single brushes and some older sets are TPL only. For a full explanation you can listen to me explain it here(video popup)
Short version:
You can download an ABR of some sets now (Art Brushes Complete, Pattern Brushes for example) but mostly its because:
GrutBrushes can only be saved as ABR format in the new 2018 ABR format or TPLs
The new ABR format is not compatible with older versions of Photoshop, the GrutBrushes plugin, Photoshop CS, or other apps
TPL is compatible with all versions of Photoshop, and many other apps including the GrutBrushes plugin.
To put everything out in TPL and ABR 2018 is more than double the work and with new brushes coming out every week I would be spending days every week just updating, converting, uploading and then testing all the sets constantly and would have no time to actually make anything.
This video (popup) shows you how to install multiple TPLs at once in Photoshop CC so it doesn't have to be tedious.
Where Can I See What All The Brushes Look Like?
You can see all the Photoshop brushes on one page here. You can move your mouse over or tap on a brush and you will see it zoomed in and up close!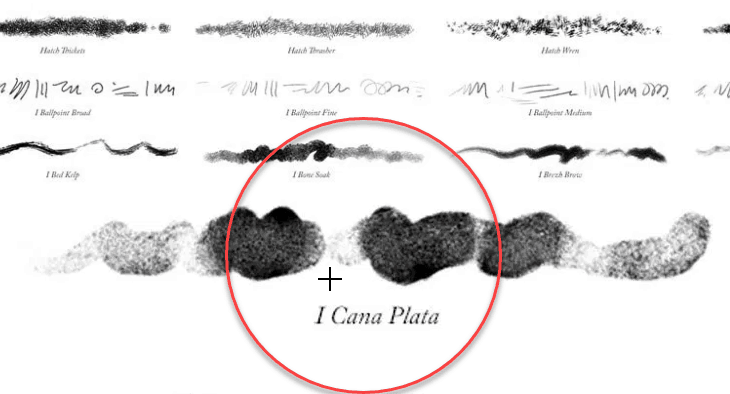 You can also download a PDF if you would like to try to print them or view that same PDF online here (but I still prefer the zoomable one page catalog I mentioned above
Of course, you can always see each individual brush in the brush shop where you can click on the preview in the middle of each brush thumbnail icon to watch each brush drawing 'live' in a mini video preview
Can I use these in commercial work?
Yes! Buying them gives you a license to sell any work you create using these brushes or Art Surfaces. You can't re-sell the original files you downloaded but you can sell any artwork you make with them.
Are these Brushes compatible with my version of Photoshop?
These Photoshop brush tools require CS5 or higher. To make sure they work with your version of Photoshop download this free Photoshop watercolor brush. If this one works with your version of Photoshop, they will all work.
To get real use out of these brushes you will need a pressure sensitive graphics tablet (like a Wacom, Huion, Yinova, Monoprice, etc) Again, if you are in doubt as to whether these brushes work with your setup download a free brush to try before you buy.
Are these Brushes compatible with Photoshop Elements?
No, sorry. They only work with Photoshop CS5 and up (see above)
Can I use these in Clip Studio Paint/GIMP/Painter? (other apps)
The answer to the above apps is unfortunately no. These brushes use every single tiny little feature possible in Photoshop's brush engine, and that means that unless an app is 100% Photoshop brush compatible, they will not work in it.
The only other desktop app (other than Photoshop) that my brushes may be able to be used in is Artstudio Pro on a mac but I've never tried that version (they also work great in their iPad App)

How Do I Import the brushes to My iPad?

My Photoshop brushes can be imported into the following iPad apps: Artstudio Pro (amazing app! Great Photoshop substitute on the iPad) Adobe Fresco, Adobe Sketch and you can also now import them all (the ABR version) into Procreate (as of version 5) A few of the brushes don't survive the import and there are also some that don't work the same way (subtle texture differences) but on the whole the Procreate imports are really good.
I am slowly (very slowly) converting as many as I can to "native Procreate" .brush versions. You can get my current Procreate brushes here (includes many Procreate only brushes)
How to install GrutBrushes into Artstudio Pro on the iPad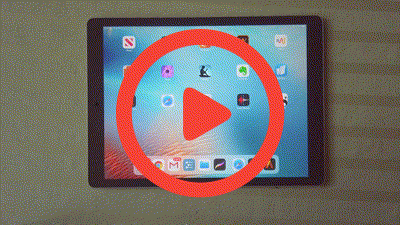 How to install GrutBrushes into Artstudio Pro on the iPad
(That tutorial has subtitles in 10 languages just select at the bottom)
You can follow the same tutorial and substitute Artstudio Pro for Sketch, Fresco or Procreate.
If you don't see the option to open the file after it has finished downloading, open the "Files" app and you should find it in there. You can choose to "open in" or "open with" the app of your choice from there
You will see many other apps and utilities say that they can use "all Photoshop brushes" or they can "load abr brushes" but 99.99% of the time what this means is that they can load the brush tip shape. And only the shape, but none of the dynamics. GrutBrushes are all about the brush dynamics, which are all the rules that control the way they behave when you move them, so the tip shape has very little to do with the way they look and will not look anything like it when you use it. Imagine freezing the bristles of a traditional paintbrush and trying to paint with it. It would be useless. It's the way the bristles bend and move and release the paint as you as you paint with them that makes your brush strokes look the way they do, not the shape of the tip.
Is this a subscription? Will I be charged again?
No, you are fully paid up, the brushes are yours to keep forever and will not be charged again. Make sure you back them up! If you bought a Membership or a set that includes one, it will expire automatically at the end of your membership period. Memberships do not auto-renew or auto-rebill and they will expire unless you renew them manually.


Quick version:
1. In Photoshop's menu, File > Scripts > Browse… select the GrutBrushes_installer.jsx file.
2. Follow the instructions on screen
3. When it's finished installing, Close Photoshop and restart
4. When you re-start Photoshop you will find the GrutBrushes panel in the menu here:
Window > Extensions > GrutBrushes

Detailed instructions:
Download the installation instructions here:
Plugin Installation GuideDownload PDF
Manual Plugin Installation:
If after installing, you don't see the plugin under Window-> Extensions your computer may be stopping the installer from writing to your system drive. You can install the plugin manually by following the detailed instructions for both Windows and Mac here It basically involves copying two folders from the zip file onto your computer.
I can't find the GrutBrushes plugin in Photoshop
If you are having trouble installing the plugin and even though you get an 'installation ok' pop up you don't see it in the menu under window > extensions > GrutBrushes when you restart Photoshop it could be that due to permissions restrictions your computer is stopping the installer from copying the necessary files onto your computer. Manual installation may be the way to go. It basically involves copying two directories from the zip file onto your computer You can find detailed instructions for both Mac and Windows here
How Do I Uninstall the GrutBrushes Plugin?
Follow the directions in this document here
(It used to be automated and a lot easier but Adobe has discontinued support for Extension Manager so it has to be done manually)

Do You Have More Tutorials?
I wish I had more!…but here are a few.
(Select a video below top open up a popup window)
Brushes Tutorials:

Installing and using a watercolor Brush + Quick Tips

Impasto Oil Brushes Quick Tips

Cloud Brushes quick-Start Video

How to use the InkyLeaks Photoshop Splatter Brushes

Getting more out of your brushes – Using the Low Pressure 'Zone'

How to use your painting as your palette

How to use a Photoshop brush as an eraser in Photoshop 2018

How to use a Photoshop brush as an eraser in Photoshop 2015 or earlier

How to Install GrutBrushes into Artstudio Pro (90 second video tutorial)

How to save a custom set of ABR Photoshop brushes in Photoshop
Art Surfaces (Paper Texture Templates) Tutorials

Introduction to the Photoshop Art Surfaces Paper Texture templates. (All you need to know in under 3 mins)

How to scale an Art Surface to 600 dpi

How to enlarge and tile an Art Suface with the crop tool

How to use blender, mixer and smudge brushes with the Art Surfaces

How to change the colour of the paper textures

How to add paper texture to a photograph in an Art Surface
Plugin Tutorials:

How to use the 'Add' button to install a brush

How to save custom brush sets in the GrutBrushes plugin
Miscellaneous Tutorials:

How to Find all the Free stuff on GrutBrushes.com

How to Paint on an Infinite Canvas of your own

How to Export A Set of GrutBrushes As A Single TPL File (to import into Artstudio Pro or Adobe Sketch

How to Organise TPL files in Photoshop Tool Presets Panel

Just painting – With the Impasto brushes

Just painting – With the CloudFX brushes

Just painting – A Face with the Watercolour brushes
How Many New Brushes Come Out Every Week?
It really varies and I can't anticipate how many I will publish in the next month. While I am always working on many new brushes in the workshop, I try not to publish them until I have thoroughly tested them and feel that they are truly ready for you Recently it's been about 5 per month though it can vary a lot
Still have a Question?
Send me an email at
info@grutbrushes.com
They go straight to my inbox and I read and reply to them all
-Nicolai
Want to Chat to the GrutBrushes ChatBot in Messenger?
NEW
Click here to open a conversation in Facebook Messenger. You can ask the Bot questions and it will try to answer. It learns over time so it should get smarter over the coming months
If I'm around I may break in to chat but you can also type 'asknicolai' to leave me a message.
You can type unsubscribe at any time in messenger to stop getting messages from me and the bot in Facebook Messenger