Description
100 Photoshop Splatter brushes – Dynamic, Pressure Responsive Photoshop Tools.
Messy, dirty, splattery ink brushes that respond to the pressure and motion of your stylus. These are not your typical stencil stamp brushes. These Photoshop brushes are dynamic and create unique marks every time you draw or paint with them, no two brush strokes will ever be alike.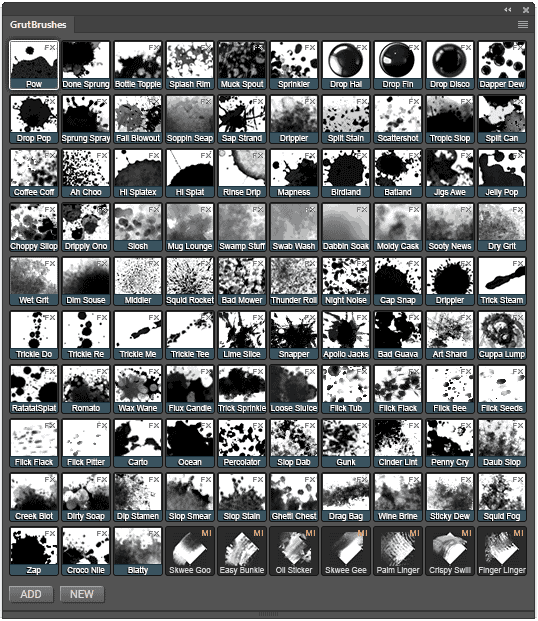 Painting Splatters, Spills and Stains in Photoshop with the Inky Leaks Photoshop brushes:
100 dynamic, pressure responsive Photoshop brushes that exude messy drips, splatters and stains of all kinds can be combined in infinite ways to generate an endless variety of wonderfuly wet inky accidents. The set will include some mixer brushes to smear, blend and make as much mess as you need to.
Each of the examples below was painted in Photoshop with about 3 to 6 different Inky Leaks FX brushes.

Various sprays, speckly droplets and a variety of ruinous marks from a fine mist to a blustery torrent spew from your stylus as you drag it across your canvas.

Disastrously large messes can flood your page quickly with a firm stroke of the stylus

Switching between the brushes to combine digital ink drops, streaks, stains and droplets enables you to create a record of artistic accidents that lend organic authenticity to your digital creations.


Quick Tutorials, Tips and Tricks for using the Splatter Brushes in Photoshop
(Tap/Hover images to see video)

Download Done Sprung Brush(Photoshop Tool Preset TPL)
More tips on the way, check back soon.
Quick Start Tutorial – How to use the Photoshop splatter brushes
[vooplayer type="video" id="MTI3NzQ2″ ]
Requirements:
• To get the most out of these brushes you will want to use them with a graphics tablet (though they do work without one!)
• The brushes are available as both Tool Presets (TPL files) and ABR files, and require Photoshop CS 5 or higher to work.
• The 7 Mixer brushes may not work with anything less than Photoshop CC (though I am not sure about this)
• If you want to use them with the GrutBrushes Plugin you will need Photoshop CC 2014 or later
FAQ
Q: How many brushes are there?
A: 100! (93 Paint brushes and 7 mixer brushes)
Q: I pre-ordered these, where do I download them?
A: You will find the download link on your account page. It looks something like this:


Looking for More Brushes?
Try the Art Brushes Complete set of over 220 Photoshop brushes for drawing and painting

or for more FX brushes, try
Photoshop Cloud FX brushes