Description
52 Photoshop Cloud Brushes and Tools – GrutBrushes Cloud FX brushes
These clouds were all painted in Photoshop in just a few minutes with GrutBrushes Cloud FX brushes, part of the new line of GrutBrushes tools for visual effects, retouching, and Photo compositing.
[baslider name="PhotoshopCloudvalley"]
GrutBrushes Cloud FX are not stencil stamp brushes. These Photoshop cloud brushes are dynamic and responsive. No two brush strokes will ever be alike. The brushes respond to the individual pressure of each of your strokes of the stylus.

Turn your stylus into a spray can full of fluffy clouds. Pick one of the crispy Photoshop  cloud brushes, press lightly for a slight whisp or choose a blobby cummulus cloud brush and push harder to blanket your photo in delicious thick realistic clouds. You can see I got carried away here but take my advice and rather take it easy, the secret to realistic clouds is subtlety.  I'm going all out a bit to show off these brushes but a light touch goes a long way in creating realistic skies.
With a bit of practice, a subtler hand than I've shown here and a judicious use of the undo button you can get some pretty realistic photorealistic clouds.
Also includes High Res versions of all the Cloud brushes (for print work) If you already own the brushes, check your email for a download link!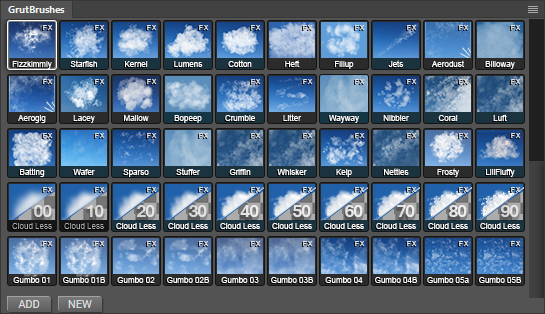 Use the different brushes to make up beautiful skies by combining all the elements that go into a realistic sky full of clouds just the way you want them. Use the "Cotton Cloud" brush for a fluffy cummulus cloud and add crispy whisps around the edges with the "Kelp Cloud" brush. Create jet streak contrails with the "Jets" brush or carve away at your clouds with any one of the 10 "Cloudless" eraser brushes that have the same natural textures as the cloud brushes themselves.
The Cloud FX set includes:
32 Dynamic cloud brushes which have no defined texture, meaning they will never repeat or even show a visible tile seem as they have no static texture. You can draw over the same spot multiple times with a dynamic brush and never get the same pattern.
Also included are the 10 static 'Gumbo' Cloud brushes which do contain a texture but provide certain fill textures to enhance the structure of your clouds. Use these brushes to fill in subtler web-like textures where the dynamic brushes may be too overbearing or lack a defined structure.
The remaining 10 brushes are the eraser brushes which you can use to carve away at your cloud layers to shape the clouds to exactly and precisely the way you want them to look.
2 of the dynamic brushes Aerodust and Aerogig allow you to shape the cloud particles by moving your Stylus around. As long as you don't lift your stylus, you can shift and push the particles around like sand on a chalkboard. Once you lift your hand from the tablet, the cloud particles are 'set' in place.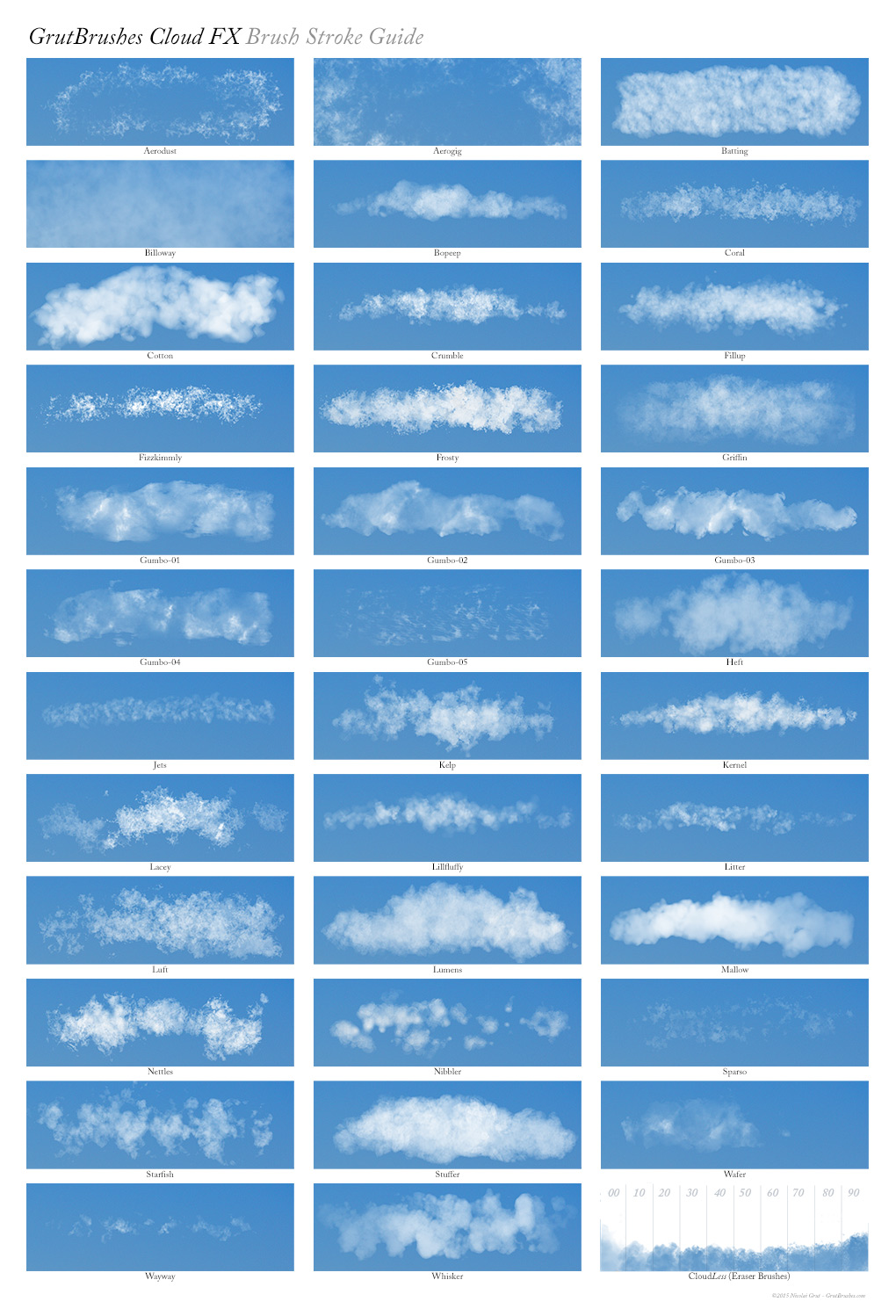 Includes 10 Cloud erasers of different definition sharpnesses to carve away at, shape and fine tune your clouds

Photoshop Cloud Brushes FAQ:
Are there instructions or a manual on how to use the brushes?
The zip file includes a 6 page PDF quick start manual which you can download here with an overview of whats included and also includes some cloud painting tips included as well as the brush guide which shows you a sample of each of the brushes. If you haven't installed any GrutBrushes before there is also a pdf that explains how to do that.
I bought these, where can I download the cloud brushes?
Check on your account page under 'available downloads' if you don't see a link there for GrutBrushes-Cloud-FX.zip send me an email and I will fix it.

How Do I Get The Plugin Panel with the Cloud Icons that I saw in the Video?
If you use Photoshop CC you can use the Digital Artist's Photoshop Panel plugin, an extension for Photoshop that gives you thumbnail previews of the cloud brushes (and any other GrutBrushes you have including the free sampler set) it is free but you will need to download it separately here.

Are these free to Art Brush Members?
No, sorry, FX brushes are not part of the Art Brush series.
I didn't get any email from you! Where is my email?
Make sure info@grutbrushes.com is not going to the spam folder.
Cloud Painting tips and Tricks
Always start on a new layer
This way you can have complete control over what the clouds look like and reduce the layer opacity to blend them into the image more. Cloud eraser brushes will not work on a flattened background layer
A light touch goes further than a heavy hand
Using a light touch with your stylus will not only give you a ton of flexibility and control over your clouds, it will also produce much more realistic clouds. It's much better to paint multiple layers of clouds on top of each other than to press hard and create thick overbearing clouds. Subtlety is key and remember what you're creating after all: clouds are made of water vapour with air in between so give them a lot of air and space to breathe.
Use Layering to Create Texture
When you apply multiple layers of cloud on top of each other, where they overlap can create beautiful rich organic textures, the more layering the more natural it will look. Remember that when you look at clouds you are seeing through multiple layers of water droplets, they way they overlap is what makes the shape.
Erase frequently
Undo to redo. As the clouds are unpredictable, get into the habit of drawing with your fingers on the undo keys, this way you can stroke on a cloud quickly, undo and redo until you like the cloud you've put on your canvas
Use any of the Cloud Brushes as erasers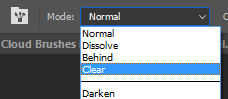 'clear' turns a Photoshop cloud brush into an eraser
Change the mode from Normal to Clear to instantly and temporarily turn any of the Photoshop cloud brushes into an eraser.
Use the cloud brushes for Smoke, steam and other Atmospheric Effects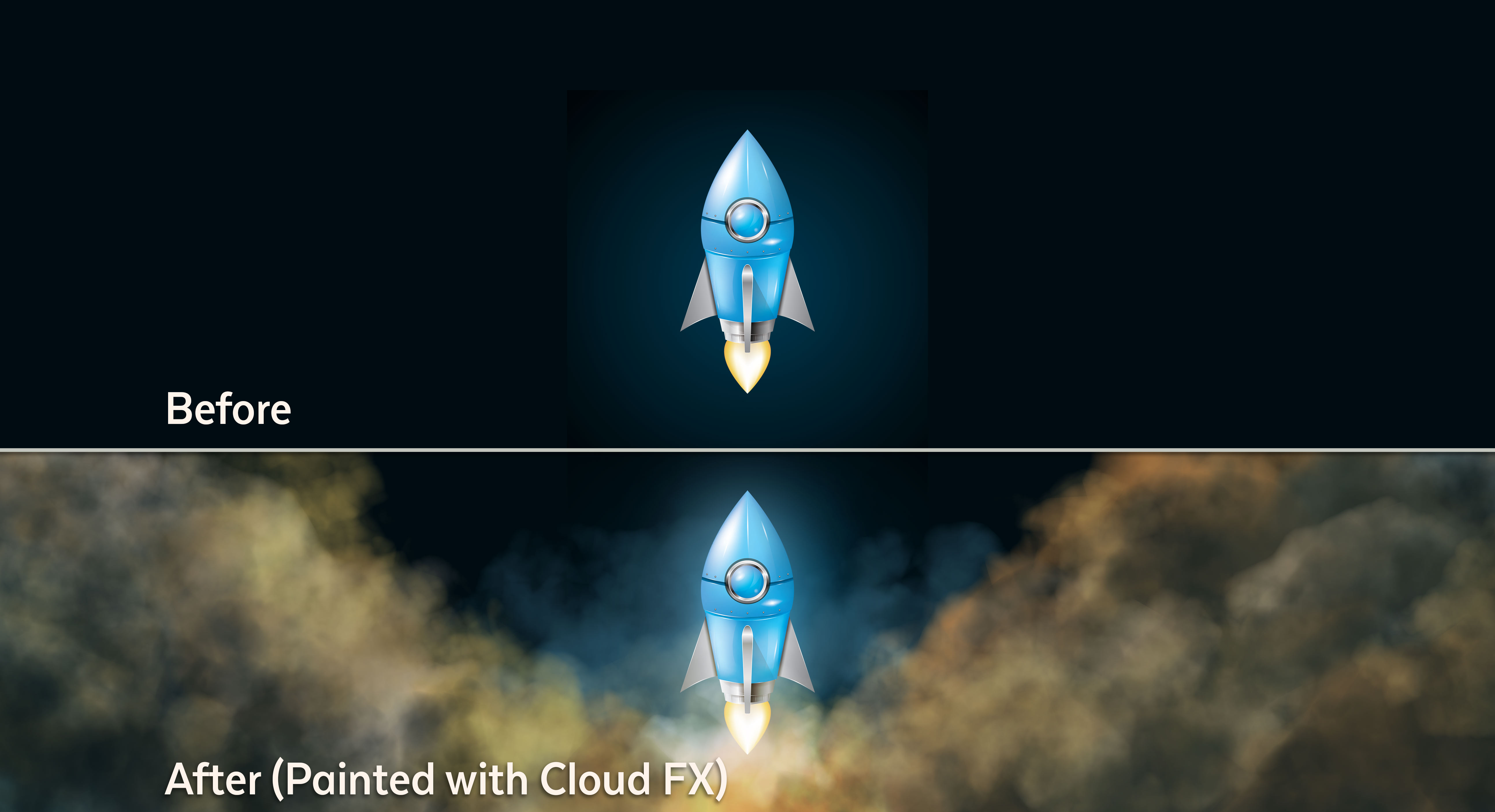 Pick from your on-screen palette
Clouds are rarely white in the real world, they are made up of reflected light from their environment. Use option/alt to click and pick your colours from your image, especially when working on a photo. Pick new tones frequently to vary your hues while keeping it integrated with it's environment.