Description
GrutBrushes Quick-Fill PaperBacks
Tiny, Instant Paper Texture Backgrounds
You can use these Quick-paper tools in Photoshop's Tool Presets panel and/or the free GrutBrushes plugin panel (CC only) Play the video to see!
What These Paper Texture Fill Tools Can Do For You
One click of the fill tool will flood fill any layer with a seamless, subtle paper texture background — instantly! no loading, no searching, no cropping, no cut & pasting
Or, install and use the Layer Styles instead. One click applies any texture you chose
What These Are Used For
When your background feels empty, cold or just "too digital" choose a
Quick-Fill paperback texture tool and click to fill in your layer with paper that instantly adds organic warmth to your digital artwork
Use them wherever you need a paper texture
Background layers
Shapes
Behind a sketching layer
Icons

Shape Layers
Decorative borders
Paper borders around photographs
Dividers
You can use these Quick-paper tools in Photoshop's Tool Presets panel and/or the free GrutBrushes plugin panel (CC only) Play the video to see them in use!
Why You Need these
When you are deep in a state of creative flow it can take less than a second to lose that groove.
Leaving Photoshop to search for, find, import, scale and position a background can toss you right out of that creative head-space. This tool will keep you creating.
Stop interrupting your work to search through your hard drive for a nice paper background image. Just click to drop one of these into your Artwork and get right back to being creative.
Keep It Real and Keep Moving
When you are working on something natural and organic, a digital pencil sketch for example, a harsh white background can ruin the mood. But so will stopping work to find a paper background image
Just click to drop in a Quick-Fill PaperBack and keep working
You can always go back in and replace the Quick-Fill texture with something else later, when you are done being creative.
Quick-Fills are meant to keep you inspired, instantly adding real, organic credibility to your piece while you work on it, without taking you out of your creative flow
[baslider name="paperbacksleafsketch"]
​What These Are Not
These are not GrutBrushes

Art Surfaces
which also add surface lighting and texture to the artwork (and are massive in size)
​
These are tiny, instant, simple and subtle paper background tiles (TPL files) that do not affect any layers above them. They are intentionally small, for working quickly with a tiny footprint so as to not interrupt your workflow.


Features
Tiny textures instantly! (preloaded)

Low memory usage (all 16 backgrounds are less than 2 MB in TOTAL)

No need to scale, crop or fit your paper image to match your background

Fits any shape, any aspect ratio

No blocky Jpeg image artifacts (previews here are compressed to load fast but the originals are not)

No need to tile anything (all these patterns are seamless)

Keeps you focused on creating

FAST, FAST, FAST
FAQ (Frequently Asked Questions)
Q: Are these for Photoshop only?
A: Yes, these are Photoshop fill tools and they won't work in any other apps
Q: Can I use these on an iPad?
A: Yes! You can install them to Artstudio Pro on your iPad. This tutorial video will show you how to install them (You will need to upload the single TPL file to your iCloud first)
Q: Will future updates be free?
A: Yes! Once these are in your account you can download any updates for free forever. I do plan to add more textures but I am not the fastest worker so it may be 3 months, but it could be 3 years..or more.
Q: Are they available as Layer Styles as well?
A: Yes! As of November 20 you can choose to install the Layer Styles as well (or instead) There are 32 Layer Styles, I included an extra magnified version of each PaperBack as well (called "...-X2") Keep in mind that he X2 versions are scaled up so you only want to use them in very high DPI work or you may see a little pixelation
Q: How is the paper coloured pink and yellow in the demos? (mine is black and white)
A: All the textures in the PaperBacks set are monochrome so that they can be used with any colour palette you choose. There are many ways to colourise them but one of my favourites is to add an Adjustment layer on top. This way you can pick any colour you like and it will apply to whatever texture you use (and change it to your hearts content!)
​
In the image on the right you can see that I have also used a layer mask to cut out the text
Additionally, an inner shadow layer effect creates that inset cutout look seen in the "Love" demo video above
Q: How do I install them?
A: You install them just like you would install a TPL brush.
The short version is, either:
1. Unzip/Extract the zip file, then select all the TPL files then right-click on the TPLs and choose "open in Photoshop" and you will find them installed into your Tool Presets panel (as in the cucumber demo video above)
or
2. To use them in the GrutBrushes plugin, click on the "add" button in the plugin panel and select the the zip file you downloaded (no need to extract it) and they will appear in the plugin panel (click the tutorial below to watch)
I have detailed installation instructions here (It's the same PDF found in your zip file)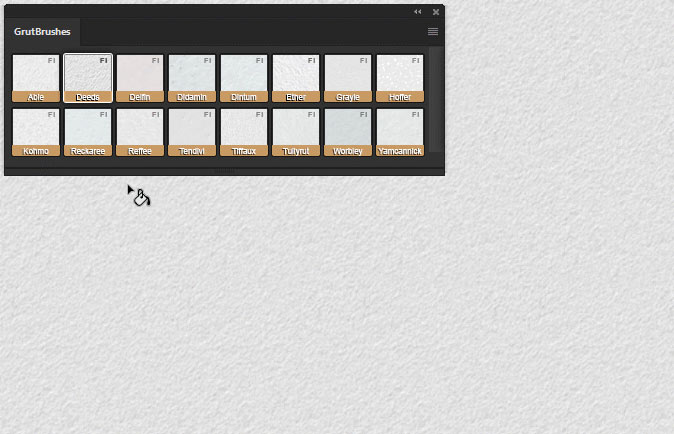 Q: I installed it into Photoshop but I don't see it in the Tool Presets Panel. Where is it?
A: You may have the 'Current Tool Only' checkbox checked. If you uncheck it you should see the Fill tools appear.
Selecting the Fill Tool will also cause it to appear if it's hidden
​

Q: Can I tone down the texture? It's a bit too harsh
A: Set the opacity to 50% to soften the texture. You can do this either on the fill tool, or just reduce the opacity of your fill layer
Q: I can't really see the texture it's a bit too subtle
A: You can do a levels adjust or increase contrast on your fill layer but keep in mind that these are most effective when you barely notice them. Think about regular paper, it has a huge impact on the way artwork looks on it but you probably never notice the texture, and that's good! You should really only notice what's on it. In almost all cases, you would do better to follow the previous tip
Q: How big can I make them?
A: They are not intended to be scaled so they will get blocky and pixelated fairly quickly (you can see what that looks like in the enlarged magnification windows in the videos above) Remember, the purpose of these is to keep you in the creative flow and get you back to creating instead of looking through your hard drive. You can always replace them later with something else if you need to
Q: I can see the pattern repeating!
A: If your image is very high resolution, the pattern will be repeated more often and will become more evident. I have spent many hours trying to minimise the tiling effect but that is an inevitable bi-product of any seamless tiles. No matter what, they are still tiles in the end. The effect is minimal when the pattern is broken up (used in a shape, or as a fill in text or behind a graphic or drawing) The pattern becomes most evident when you use it in a large flat area with nothing on top but if that is what you need then you should probably go with a large, print resolution paper texture like Art Surfaces paper textures
instead
Q: If I don't like them, can I get my money back?
A: Yes! If you don't love these for any reason, just

send me an email

within 30 days and include either your order number or just the email address that you ordered with and I will refund 100% of your money