If you have purchased a lot of brushes you know that your downloads list on your account page can get quite long and downloading all of them could be a bit time consuming if not tedious. Now you can download all your purchased brushes (new and archived) in one go! Just select all the brushes you want to download and click on the "download all files" button and you can download all your brushes at once in one zip file.
[twocol_one]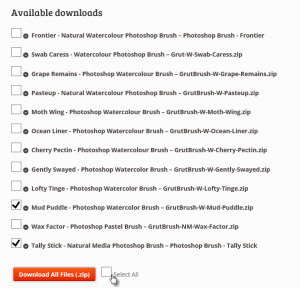 [/twocol_one] [twocol_one_last]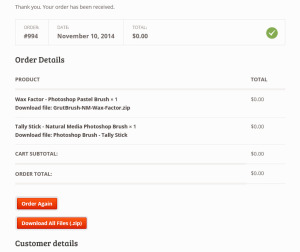 [/twocol_one_last]
Once you've downloaded your zip file, you will find it contains all the zip files that you would have previously downloaded one by one. You will still have to extract your .tpl (Photoshop toolset file) to install it but at least your downloads will all happen with just one click.
I may remove the "how to install Photoshop brush tpl files tutorial" that is currently included in every zip file right now as it is available on the site here and anyone who purchases more than one brush will have no need for multiple copies of the tutorial. This would enable the server to zip all the .tpl files into one zip file instead of multiple zip files but there may be security complaints from users who still choose to download the single files instead of zipping them as many browsers may complain if you try to download a .tpl file directly. I suppose there is also the chance that your computer might choose to open them and install them into Photoshop instead of downloading them as would happen with a zip file.
Let me know your thoughts in the comments, I'd love to hear from anyone who's tried either the old or new system.