For Photoshop CC 2014/15 — MAC & Windows

A Photoshop plugin (Photoshop CC 2014/15) that puts your GrutBrushes into a panel right inside Photoshop!
Includes 10 free GrutBrushes tools for FileSilo visitors!

Including this amazing Oil Impasto brush. Realistic oil painting without any layer effects!

---
Thumbnails For All Your GrutBrushes Tool Presets!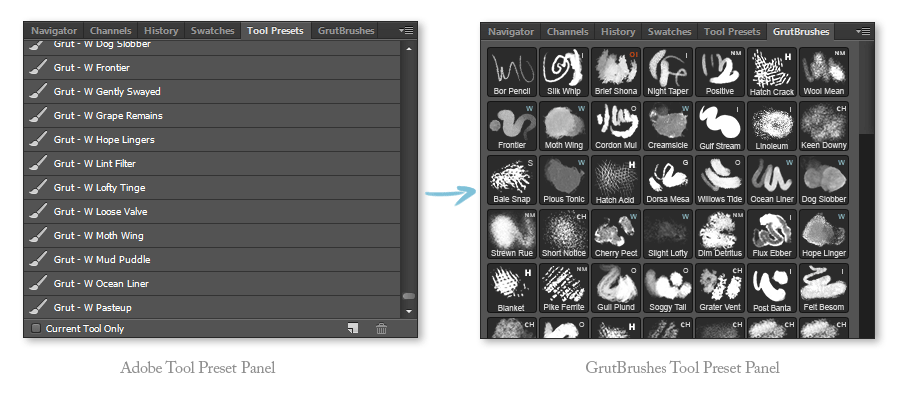 Now you can see thumbnails of your Photoshop Brush tool presets, just like you can with the ABR brush panel, but better because you can…
---
Drag and Drop to Organize your brushes
---
Position your GrutBrushes panel wherever you want it

Docked, Vertical or horizontal flyout, it's up to you— Arrange your tools to suit your workflow
---
Speed up your workflow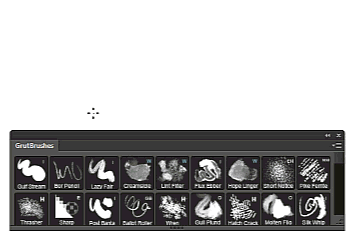 Focus on your painting while switching between toolsets effortlessly
---
---
Hide Brushes you don't use or need

Keep your panel tidy without deleting brushes. Just hide the ones you don't need until later.
---
Install the GrutBrushes via the internet, directly from inside Photoshop!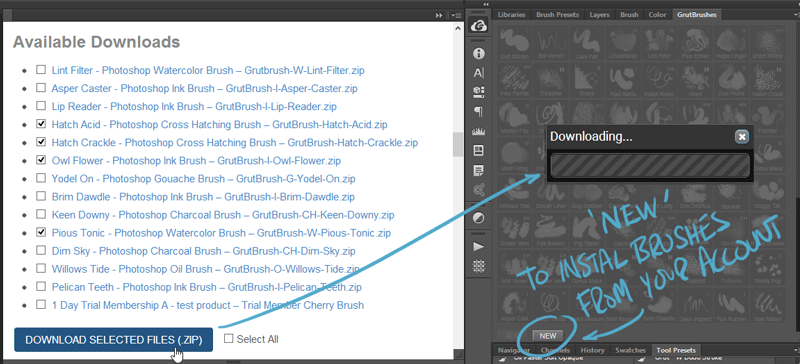 'Instant-install' brushes with one click by using the 'new' button in the plugin panel.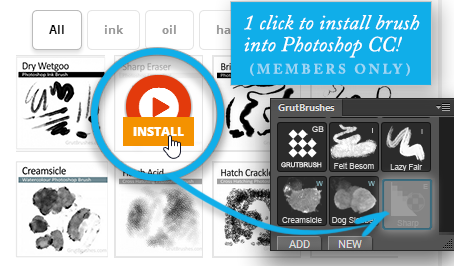 Guests can 'instant-install' freebies including the Free Brush of the week directly from inside Photoshop using the GrutBrushes plugin panel. Just click 'New' login and navigate to the Free Brush of the week page while in the plugin window.
---
Includes These 10 Free Photoshop Brushes and Tools for Digital Artists
Download to use in the GrutBrushes toolset panel (Photoshop CC 2014/15) or use them on their own in Photoshop's Tool Preset panel (CS 6+)

---
Also includes these special use Tool Presets
Also includes these three special use Tool Presets
[box type="info"]If you have any brushes  from a previous FileSilo download and don't have the icons for the plugin, you can download them here[/box]